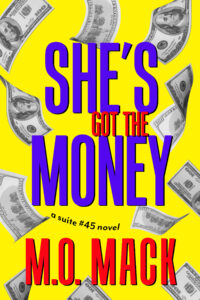 From author M.O. Mack comes another fast-paced standalone thriller,
SHE'S GOT THE MONEY.
TO SAVE THE HIT MAN SHE SWORE TO WALK AWAY FROM, SHE'LL HAVE TO BREAK ALL THE RULES. INCLUDING HIS RULES.
When Emily escaped her old life, she never imagined ending up here: running the front office for a crew of dangerous hit men. Even worse, now she owes them money for protecting her from her abusive husband. This new situation is ten times deadlier than the life she fled, but every attempt to leave lands her deeper into their world. Especially now that her boss has been taken by some very bad people. And they want money. A lot of it. She could walk away. She should walk away. Because to save him means she'll have to do the unthinkable. And then there's no turning back.